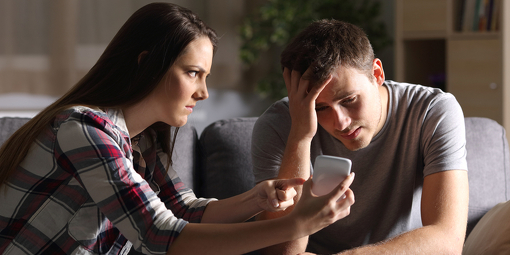 "Konstantno provjeravanje telefona partnera je vrlo delikatna situacija", rekla je Stephanie Macadaan, bračna savjetnica iz Los Angelesa.
"Obično provjeravanje telefona partnera ukazuje na nepovjerenje. Ako pokušavate da postignete udobnost ili sigurnost u vezi s nečim što vas uznemirava, vjerovatno je bolje da se obratite svom partneru i porazgovarate", istakla je ona.
Naime, veliki broj bračnih savjetnika također smatra da je crveni alarm kada jedan od partnera počne kontrolirati i provjeravati aktivnosti drugog partnera. To je znak da dolazi do gubitka povjerenja i da se trebaju što prije poduzeti adekvatne mjere koje će predstavljati pokušaj očuvanja veze, prenosi LIFE.
Većinu ljudi koji špijuniraju je sramota zbog tih postupaka, ali obično provjeravaju aktivnosti svog partnera na društvenim mrežama u stanju očaja. Do provjeravanja aktivnosti na mobilnim telefonima najčešće dolazi zbog toga što ne vjeruju svojim partnerima kada im kažu šta zaista čine u stvarnosti, a nerijetko sumnjaju i na prevaru.
Elisabeth LaMotte, bračna terapeutkinja i osnivačica Centra za savjetovanje i psihoterapiju u Washingtonu izjavila je kako su sve češće situacije kada dolazi do raskida veze upravo zbog toga što se jedan od partnera ljuti zbog narušavanja privatnosti "čačkanjem" telefona.
"Ako napravite invaziju na privatnost, a ništa ne poduzmete na ozdravljenju i obnovi povjerenja, to vam govori da prolazite kroz tešku emotivnu krizu. To nije zdravo", istakla je ona.
Isto tako, stručnjaci za veze savjetuju da je najbolje direktno porazgovarati sa svojom djevojkom ili dečkom o svim vašim sumnjama.
"Ako je vaš odnos otvoren, pošten i ima redovne rutine koje grade povjerenje, onda neće biti potrebne nikakve skrivene aktivnosti. Iako ćete u jednom momentu posumnjati u vjernost partnera, što je apsolutno normalno, sačekajte dok ne uočite jasne znakove prevare", zaključuje se u anketi Avasta.
klix.ba