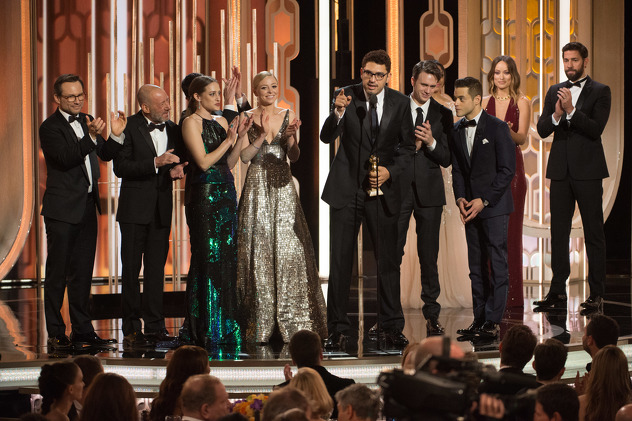 Na 73. dodjeli Zlatnog globusa, nagrade za najbolje filmove po izboru stranih novinara u Hollywoodu, apsolutni pobjednik je film "The Revenant" koji je osvojio nagradu za najbolju dramu, najboljeg reditelja i najboljeg glumca.
Julianne Moore, koja je dodjeljivala nagradu za najboljeg glumca, najviše je obradovala Leonarda DiCapria, koji je za ulogu u filmu "The Revenant" proglašen najboljim. Prema najavama određenih filmskih kritičara, to je bilo i očekivano.
Međutim, malo ko je očekivao da će film "The Revenant" osvojiti nagradu i za najbolju dramu, kao i najboljeg reditelja. Alejandro González Iñárritu osvojio je nagradu za najboljeg reditelja, i to već drugu godinu zaredom, nakon što je 2015. godine osvojio Zlatni globus za najboljeg reditelja za film "Birdman".
Film Ridleya Scotta "Marsovac", osvojio je nagradu za najbolju komediju u kojoj glavnu ulogu igra Matt Damon, koji je ujedno dobio nagradu za najboljeg glumca u komediji.
Najbolja glumica u drami je Brie Larson. Jennifer Lawrence dobila je nagradu za najbolju glumicu u komediji, dok je najbolja glumica u dramskoj seriji Taraji P. Henson.
Najbolji glumac u televizijskoj komediji je Gael Garcia Bernal za Amazonovu seriju "Mozart in the Jungle". Aaron Sorkin dobio je Zlatni Globus za najbolji filmski scenarij za film "Steve Jobs".
Nagradu za najboljeg sporednog glumca dobio je Sylvester Stallone za ulogu u filmu "Creed". Najbolju žensku sporednu ulogu osvojila je Kate Winslett u filmu "Steve Jobs".
Najbolji glumac u dramskoj seriji je Jon Hamm za seriju "Mad Men". Nagradu za najbolji animirani film osvojio je "Inside Out" koji je producirao studio Pixar.
Za najbolji film na stranom jeziku proglašen je "Son of Saul" iz Mađarske.
Nagrada Zlatni globus u suštini predstavlja uvod za nagrade Oscar, te osvajači Zlatnog globusa u većini slučajeva osvoje i najprestižniju filmsku nagradu.
klix.ba